This is a small batch CBD brand from the founder of Nutiva, a brand renowned for its plant-based superfood products. Roulac the founder of Nutiva, became a voice for the hemp and CBD industry. Thus RE Botanicals is a reliable source for all things hemp-based CBD. What we love about RE Botanicals is that it is one of a kind. Unlike most CBD products, the RE Botanicals concoctions are made with certified organic hemp. Hence you're not consuming any harmful additives when using RE Botanicals products. The products also have zero added flavors, and contain organic MCT oil. Read on to find out more about them.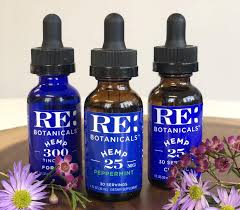 What's available on RE Botanicals?
Shop for the best tinvtures, relief body oil and capsules at RE Botanicals. You can also shop for CBD for pets as well.
Here's a look at their best sellers
RE Botanicals Hemp Classic Tincture
This tincture has two simple ingredients: The U.S.-grown, USDA certified-organic hemp as well as certified-organic MCT coconut oil. The MCT oil is golden in color which leaves you with the worry of a bitter aftertaste, but with RE Botanicals, you will be pleasantly surprised to find no strong flavor. You lose restlessness, feel energetic and focussed when you use a full dropper which is an average dosage. The consistency of the tincture is also good due to the coconut oil, it also works as a pretty great lip moisturizer too.
RE Botanicals Lavender Relief Body Oil
Alongside organic hemp and MCT oil, having 200mg of CBD per bottle calming lavender essential oil. The oil is great for bedtime use, and useful in moments of stress and anxiety and can be used throughout the day. It contains lavender which is perfect for application after a long day and peppermint which is extremely versatile and useful for managing pain and headaches. Ginger lime helps to improve moods and energize you at the start of your day.
Why choose RE Botanicals for the best CBD products?
• RE Botanicals is one of the most reliable source for all things hemp-based CBD.
• The RE Botanicals concoctions are made with a certified organic hemp, in which lots of thought goes into the soil which it's grown in.
• With RE Botanicals, you're not consuming any harmful additives using RE Botanicals products.
• The products of RE Botanicals feature zero added flavors, and organic MCT oil made from tender coconuts as the base. Almost all other brands use olive oil that is often diluted, or unstable heat-processed hemp.
• Apart from producing green CBD products, the brand gives back to the planet with their every sale.
• These CBD products are particularly useful in moments of stress and anxiety throughout the day as well.
• Every batch is third-party verified using the services of an independent lab followed by posting of results for the public, hence you can be assured that the quality of the CBD product is excellent.
Shipping and Refund Policy
RE Botanicals offer free shipping on orders over $50, and a flat shipping fee of $7 on orders less than $50. RE Botanicals offers a 30-day money back guarantee. If you're not satisfied with any of their products for any reason, contact them at help@rebotanicals.com.
RE Botanicals is a pioneer in sustainable agriculture which honors purity of product and has a mission to combat climate change. We think they are an incredible, innovative, and ethical brand that just might change the CBD industry in a positive way. Their concern for the society, the afforable prices, top quality and commitment make the a preferred choice for many to effect change in their lifestyle and health.