Swanwick Sleep is a company that was founded in November 2015 and is owned by two brothers Tristan and James. Swanwick Sleep specializes in the manufacture of blue light obstructing glasses. These glasses help those who have difficulties sleeping at night. It all started when the brothers themselves had difficulty sleeping at night. It was later discovered that the blue light that is present in our gadgets was responsible for the damage. When users stare at their computers, or Smartphone screens at night, the blue light convinces our body and mind that it is still daytime and this blocks the production of the sleep hormone. In November 2015 they launched their sleep company, Swanwick Sleep and its blue light blocking glasses.
What are the products available on Swanwick Sleep?
The main products available on their site are blue light blocking glasses. These glasses are available for both adults and children. They come in different shapes, sizes, and colors and you can choose one according to your liking and requirement. Anyone can wear swannies irrespective of whether you already wear prescription glasses or not.
The available swannie brands are; wayfarer, aviators, fitovers, classic, cat eye, kid's neon, reading glasses, grey swannies, and custom prescription lenses. There's also a sleep better bundle which include; earplugs, swannie glasses, and a sleep mask.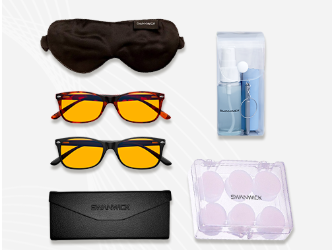 Buy Now
Kid's neon is amazing and available in various colors such as yellow, pink, black, and green.
Besides this, they have the following products in their line.
Pure silk sleeping mask
Gift cards
Magnesium oil spray
Sound blocking earplug
Eyewear clean and repair kit
Aroma diffuser
The brain sensing headband
Why choose the Swanwick Sleep range of glasses over other brands?
Everybody owns a gadget these days. However, prolonged use of these gadgets can hurt your eyes and cause other detrimental effects such as lack of sleep.
With Swanwick, you get glasses specially designed for you to use your tablet, laptop, or Smartphone during the night.
These glasses enable users to watch their favorite channels or read their favorite book on Kindle without worrying about lack of sleep.
They have special fitover glasses for prescription wearers
They have men's, women's and kids styles.
If you don't experience the best sleep you've had in ages, they will give you a refund.
For extended protection during the daytime, you have day swannies as well.
Reviews
Rating – 4.6/5 stars
Customers love these products which are unique and helps them beat the blue-light radiating from gadgets. Many have reported significant improvement in sleep, better sight and a clearer mind. They are of fine quality and have customers throughout the world. Here's a sample review of their customer.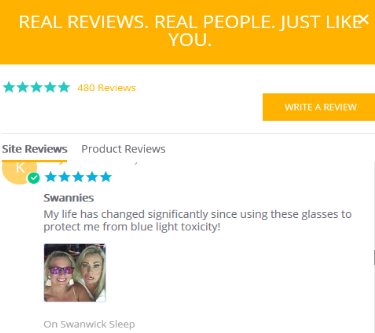 Shipping and Returns Policy
Shipping charges and delivery estimates for your order will be calculated and displayed at checkout. They offer international shipping too. We love that shipping does not take too long and you get your products as fast as possible. They are so sure you'll love the non-prescription Swannies as well as other Swanwick Sleep products that you get a 100% money back guarantee within 30 days of purchase. In case of damages or if you are unsatisfied with any of their products you may return them within 30 days for a full refund.
Conclusion
Lack of sleep will cause many health complications such as weight gain, stress, and lack of focus. Hence health practitioners around the globe advocate for good sleeping habits. We also need to protect our eyes from the effects of light emanating from gadgets to keep some of these health complications at bay. Swanwick Sleep glasses promote better sleep and prevent some eye-related complications and are a blessing to those who cannot avoid excess screen time.